Manresa / Rene Redzepi (Noma) dinner – Complementary
Noma – it feels like this year's Etxebarri or El Poblet – the must-try place for the fooderati.
Noma has been documented extensively by Very Good Food (are capitals permitted?) From her many photos and descriptions, it appears Rene Redzepi's cuisine has an intimate connection to the Earth. While the food looks different, it looks more introspective and natural, along the lines of a Pierre Gagnaire instead of an El Bulli. That would be an apt description of Manresa's cuisine too.
How would Redzepi's cuisine translate to the Bay Area, and Manresa? Would the Redzepi dishes be facsimiles of his restaurant's dishes? Or would there be changes to account for the Bay Area bounty? Would new ideas, and ingredients, be integrated into older dishes?
How would the collaboration between chefs play out during the meal? The last collaborative dinner I attended, the Passard / L'Arpege dinner, was not so successful. The menu jerked back and forth, between the two styles, and neither of the chef's immense talents surfaced – an average instead of a product.
The menu with pictures and descriptions is listed below. (RR) designates a Rene Redzepi dish. I did not receive my usual (lit) Manresa seat so the pictures did not turn out as well as I would like, but I will still include most of them. It is a shame because the food was beautifully plated. The meal also took place a few weeks ago so my memory may be forgetting certain tastes and/or details.
Amuses
Kincho melon and sparkling coriander
Garden radishes w/ brown butter emulsion (RR)
Aji w/ ginger, a lettuce and cucumber gazpacho
The amuses started off uneven. The kincho melon and sparkling coriander was borderline abrasive – the 'sparkling' component dominated. The garden radishes seem to be a traditional amuse for both restaurants. The aji redeemed Kinch's first amuse – pristine fish with complementary "green" flavors – despite my dislike of cucumber.
Geoduck clam, green strawberry juice and frozen buttermilk (RR)
Kinch and Rene may have made a pact – we each have to throw something quite challenging into the meal. In that imaginary pact, this was Rene's answer to Kinch's sparkling coriander. The green strawberry juice was intensely acidic, nearly to the point of being entirely unpleasant. The frozen buttermilk was fleeting – its taste was but a suggestion – but it had that insubstantial texture that I generally dislike in "frozen" haute cuisine items – akin to El Bulli's Parmesan foam. At this point, I was a little worried – a failed attempt to take off and fly.
Tomatoes, both raw & dried, smoked roe w/ roast tuna juice, golden purslane, avocado
Again, in my imaginary world, I wonder if Kinch knew some of the previous dishes might be a bit difficult; and, after jarring us out of our comfort zone, brought us back to one of his classics. The smoked roe and tuna juice salt the tomatoes perfectly, and complement their meatiness. We were back on track – all systems go.
"Vegetable field" (RR)
Into the Vegetable Garden is Kinch's masterpiece, the crowning achievement of his bio-dynamic garden project, and he boldly handed its spot on the menu over to Rene's own Vegetable field. The dish was radically different from Kinch's and, yet, it was intimately familiar – an intersection and difference of the chefs.
It was served on a hot stone (foraged earlier in the Santa Cruz mountains), a bed of mashed potatoes, various veggies, and a malt crumble. The dish could be described as an extension of nature, as opposed to a plate of vegetables that approximate nature. There was a certain amount of non-representation inherent in the dish, whether intentional or not. It reminded me of El Poblet's "Into the Woods." We have blast off.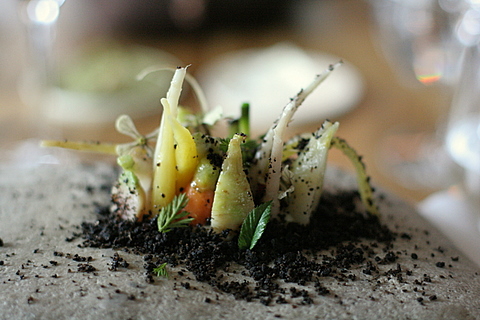 This is better picture (with different vegetables) from Very Good Food
And a few pictures of Kinch's Into the Garden for compare and contrast:
Sea bream perfumed with green garlic, abalone in a seaweed persillade
The vegetable quality was at its peak but the meats may have stolen the show. This was the best tasting piece of cooked fish I've ever eaten – it was the ocean. Everything else on the plate was a distraction because that fish was absolutely spectacular. If anything, during this highly conceptual diner, it served as a reminder that good food starts with excellent ingredients.
Tartar of ox, wood sorrel, juniper and oyster emulsion (RR)
This is a Noma signature so it was fitting to see it on the menu – but it wasn't just stuck in somewhere – it belonged here, exactly. I don't know long the ox tended fields, if at all, but the meat was aged for 48 days. The flavor was gamey, deep, complex, and long-lasting. That alone would have been enough but the other ingredients grounded it (literally?) and connected the meat back to its environment. And to further the connection? Eat with your hands. This was the climatic point of the meal – everything before it had built to this point.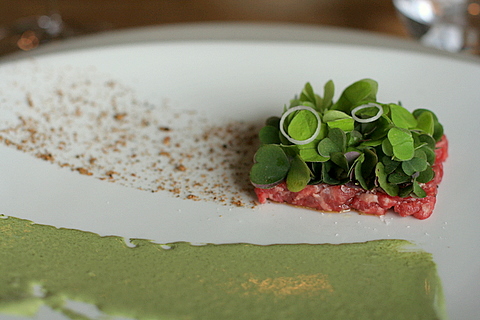 Another better picture from Very Good Food.
Rack of veal, slowly roasted, corn pudding and morello cherry, some different vegetables
After the sea bream and ox, I could not imagine this dish maintaining the highs. Oh so wrong. The veal was near-drowning in its own juices, flanked by generous portions of fat, and it tasted of milk. The softer flavors provided a nice landing after the ox but this dish capped the meal with an exclamation point.
Sheep's milk yogurt mousse and sorrel granite (RR)
Blackberries and bitter chocolate, caramel popcorn croustillant
As usual, no matter how hard I tried, the desserts did not get the attention they deserve. The sheep's milk yogurt mousse was perfect – tangy, acidic, with just a hint of sweetness – the sorrel granite a bright herbal palette cleanser.
The meal was a resounding success; if not for the initial mis-steps, I would classify it as an A1 Meal. The dishes had a momentum and flow, a purpose in the context of the meal, despite alternating between chefs. It was a crescendo that climaxed with the ox, and gently let down afterward. Their approaches looked similar on paper, but the meal was a synthesis of their differences. Where Kinch takes great pains to deliver a "sense of place", Rene seems to take great effort to connect the food back to "the place" – different approaches to a similar end.
Besides Tokyo and its many counters of raw fish, Noma sits atop of my must-try places. My next European trip will route through Copenhagen. And it will consist of at least two Noma meals.
- chuck
1 – Here's a Noma review that probably took place once the chef returned from his California adventure:
http://amedamaonthegogo.typepad.com/amedama/2007/06/hijacked—and-.html