Swirl Guide Napa Valley – Eat, Drink, and Be Merry
ChuckEats owes its existence to start-ups and the entrepreneurial spirit – and now it's re-visiting those roots. The trick was finding a way to turn the passion of ChuckEats into a viable business, without compromising the content.
I have found a way 1 – and (hopefully) it will be of great interest to most readers of this blog.2 All will be revealed soon – and some will receive an invitation to participate in the upcoming alpha version.
Meanwhile, to get my hands dirty again with product design and engineering…


I've developed the Swirl Guide Napa Valley iPhone app. It is a comprehensive guide to over 240 wineries that can be sliced and diced by
30+ characteristics (dog friendly, architectural significance, etc)
40+ varietals (pinot, rhone blends, etc)
all 15 AVA districts (Yountville, Calistoga, etc)
and 7 different major routes
Full winery details (hours, fees, etc) are included for planning purposes. Find the right batch of wineries and create an itinerary. Get on the road, go, map your route, and take notes. And finally, being 2010, there's Twitter and Facebook integration for sharing, or bragging, with your friends.
You can buy it directly here ($3.99) by clicking on the Apple button below – or read more at the Swirl Guide web site. Some sample screen shots: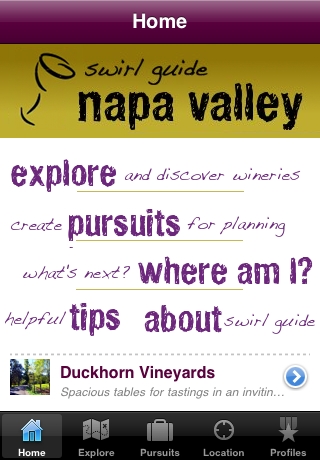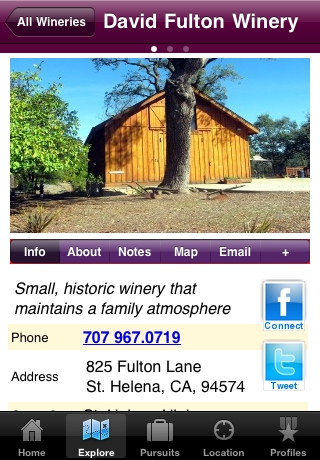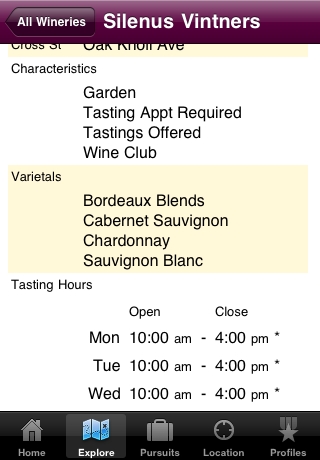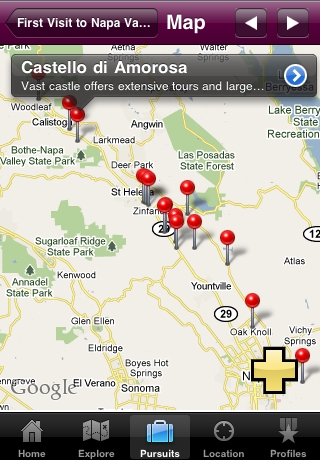 If you buy the app, and like it, it would be most appreciated if you could write a review for Apple's iTunes Store.
If you just like the idea, please pass it along via Facebook and Twitter to your wine-loving friends – thanks!
- chuck
1 – Don't worry – this blog will remain this blog – covering future (Paris? Tokyo?) and past (ahem, Japan, Elements, Saison, & more) meals.
2 – What do you think of the re-design? And my new friend? Apologies to Windows users as I'm still trying to figure out the right font to use that maintains readability without distorting. If you know of a good serif font that maintains its character across OS/browser/font-size tuples, please email me.