Perfect Meal 2010
Vegetables, time and place, foraging, terroir, chefs growing gardens – 2010′s top food trends? Or themes that have been explored by the restaurants discussed on ChuckEats over its (now) five year history? FoodSnob first coined the term, jokingly, "the New Naturals" as far back as 2008, to describe the loose confederation of restaurants like Manresa and noma; and now "New Naturalism" has popped up as a top food trend for 2010 Time Magazine, certainly a result of noma's ascension to fame.1

An upcoming slate of posts, guaranteed to trickle out over the next few months, will continue the recent interest in narrative, structure, and creativity in meals. Highly-anticipated meals at l'Arpege (my fifth) and Pierre Gagnaire (my fourth) in July helped illuminate inconsistencies and possibilities unexplored. And it was Saison recently, in San Francisco, that took a l'Arpege blueprint and rocketed to one of my favorite meals of the year. For all of the experimentation on methods, ingredients, & expectations, the structures of many meals remain largely the same.
And this curation below, culled from 2010′s best, would be no model to follow, if consumed as one meal. It would be a series of hits, lacking much rhythm or subtlety, the antithetical kaieski meal. This list does not (necessarily) represent my favorite restaurants, or even my best meals 2; instead, it's merely a collection of the favorite things I ate this year3, in a restaurant with fine-dining aspirations4, in some vaguely appropriate order for a hedonistic mock meal.
Commis (Oakland, California)
Egg Yolk, Onion soup, date jam, steal-cut oats, chives
The ubiquitous egg of 2010, mandated by PR firms as menu necessities, was omnipresent in restaurants. Uneven ingredient and conceptual quality rendered it tiresome. Not the case at Commis. This riff on the infamous l'Arpege egg was indeed world-class, belonging in conversations with its ultimate influence. Its yolk was half-cooked to an exceedingly satisfying texture throughout – particularly in context with the textural contrasts of the oats and onion puree at the bottom. Near the finish, the jam lent its sweetness, lasting for ten seconds or more, as the oats were chewed.
It is a restaurant that confounds me as two dishes appear on this list – I always recommend it to anyone that asks – and yet my desire to return is low. The amuses and appetizers are where the real genius of Chef Syhabout shine through in all of their glory. A carrot dish last year, paired with nori, honey, & brown rice vinegar was a perfect balance of sweet, sour, and umami. But the beginning courses do not match the later, larger protein courses – there's a disconnect that I can't resolve – a personal disagreement with the framework of the meal.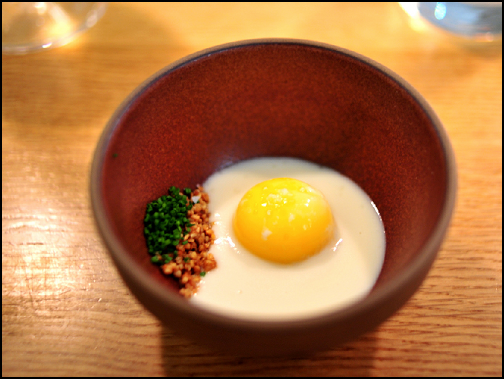 photo by Ulterior Epicure – this dish made his Best of 2010 list too
Manresa (Los Gatos, California)
Mandarin and jasmine tea jelly
David Kinch's food flirts with traditional and modern Spanish, French, and Japanese as he weaves his garden-grown ingredients through 20+ course tasting menus for the gluttonous. This dish, however, is iconic Manresa that possibly captures Kinch at his best – bold and exact flavors rendered subtle and introspective. It is culinary transmutation and it happens nightly at Manresa.
Citrus has been relegated to sashimi compositions for too long on American shores; make a trip to Manresa during the winter and early spring Bay Area citrus season for a change.

full review – Why David Kinch Deserved to Win the James Beard Award
Manresa (Los Gatos, California)
Raw milk panna cotta with abalone
Seductive and profound – my dish of the year – transmutation, alchemy, magic. The abalone, with all is meatiness, was tempered by the cool raw milk pudding, presumably milked from the same cow as the extraordinary best-in-the-country butter. The slight salinity of the dish, possibly from the abalone, possibly sea water mixed into the panna cotta, held it all together while faintly referencing salted butter. There were also inflections of sweetness and tanginess. Fifteen minutes of bliss (yes, I stretched it out that long, bite by bite.)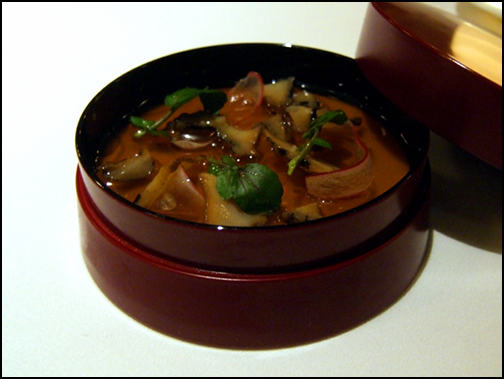 from a November meal
Ubuntu (Napa, California)
The Garden Snake – Leaves, Flowers, Roots, Lemongrass Oil, Herbs Soil, Truffled Pecorino
New style, same ethos – the Garden Snake was an excellent successor to Jeremy Fox's Carta da Musica – an ebullient celebration of the Ubuntu garden's bounty. The range of textures kept each bite new and interesting, while the truffled pecorino lingered ethereally in the background.
Ubuntu will get more press time here in 2011. A busy year prevented me from trying Aaron London's food after Fox left. Sadly, that was a big mistake – Ubuntu is still the most exciting restaurant in the Bay Area that isn't named Manresa. And I won't miss the upcoming spring and summer menus.

from an October meal
Georges California Modern (La Jolla, California)
Bacon-wrapped Harpoon Swordfish – kohlrabi, watercress, dried squid broth
The food media has an unhealthy obsession with New York, San Francisco, Los Angeles, and Chicago, arguably waiting for trends to reach these epicenters before they can be validated for publishing. A recent article in the New York Times might lead you to believe the current foraging trend started with chefs picking weeds in abandoned lower Manhattan lots. There were many others just as qualified for mentions, interviews, and/or features; they just didn't live near the bright lights. If you don't live near the writers…
My Georges California Modern meal by Trey Foshee was enlightening because, in part, I forget my own beliefs – there is just as much culinary excitement outside of these cities as within them. Chef Foshee's meal hit the major boxes on my checklist – conceptually exciting take on his area, high-quality ingredients – many local, generally flawless execution, and a beautiful flow between ingredients and dishes.
As umami garners more attention, the magical dried squid broth in this dish could serve as its very definition. The broth was light and refined, but it packed an intense squid taste while still being balanced with depth. It was a stunning broth – and its memory lingered most from that wonderful meal. (The fish itself, harpooned, was a reference point for me in terms of swordfish too.)

full review – Of The Place
Saison (San Francisco, California)
Brassicas in various ways, boullion of toasted grains
In the past, I have said Michel Bras was etched into the DNA of various chefs and trends; but Saison's Joshua Skenes is channeling Alain Passard unlike no other. Saison has been open for just over a year, and based on my second visit recently, it is hitting its stride. So much so, that it completes a triumvirate of Quince, Coi, and, now, Saison, for fine-dining horsepower in San Francisco proper.
Skene's food has a lightness that really appeals to my current sensibilities. He is slowly cooking vegetables and meats to extract their maximum natural flavor and he is simplifying dishes, reducing them to bare essentials. This food is probably not for everyone – it might lack substantialness to some, familiarity to others – but it is accomplished.
The brassicas are cooked in the open hearth, slowly & separately, shifted around to get a variety of textures. A warm boullion of bonito broth is enhanced by the ever-so-sweet toasted grains, rounding out the depth of the broth. The dish is as simple as simple can be, on the surface, but its complexity lie in the varying textures and the interplay between char and broth. This should be a signature dish offered with every Saison meal – entirely possible given the Bay Area brassicas season is year-round. If you want to taste the spirit of l'Arpege, without the flight, this is the dish.

from a December meal
The Sportsman (Seasalter, UK)
Sole in seaweed butter
The Sportsman, just famous enough, is the logical end of the "eat local" narrative – everything served comes from its immediate radius. And the chef, Stephen Harris, touches everything served in the restaurants – from harvesting the sea salt to making his own (tasty) butter to aging his own hams. It is as close to a singular artistic expression as one could expect in a restaurant.
Have you ever tasted the ocean in a piece of fish? This sole was very firm; so firm that I suspect some people would not like it, despite its tremendous quality. It took a bite or two to get adjusted to its texture. Not since Tokyo have I tasted the sea in a bite of fish – a minimal dish that relied completely on the quality of its product and deft cooking. Seaweed butter – seaweed from the beach a few feet away, dairy from cows a few miles away, and the butter is churned in-house – dedication to a vision.

full review Tasting Menu DIY
LudoBites 6.0 (Sherman Oaks, California)
Crème Fraiche Panna Cotta, Caramel Sauce, and Caviar
Once upon a time, there was a fantastic chef that Los Angeles largely eschewed, in favor of who knows what at the time. The stately dining room, European three-star territory in every manner, was sadly empty. This chef was a shining star, someone who recalled the best moments of Pierre Gagnaire – daring and impulsive creations that challenged perceptions and expectations – among the very best in the country. He left to cook pizza in a Las Vegas club, re-packaged himself on TV as an enfant terrible, and shot out as LudoBites – a built-for-food-blogger super nova that has become the poster-child for pop-up restaurants.
After trying every dish on the menu, shared with other bloggers, it was this classic Ludo dish from his Bastide days that trumped every dessert I've had this year. Caramel always works best with salt in my opinion, and it's the caviar in this dish that delivers that unexpected impact. It certainly shares affinities with David Kinch's raw milk panna cotta with abalone mentioned above. But Ludo, at his best, is a master of texture too – and the back and forth of the creamy crème fraiche and sticky caramel is just as much genius as that caviar touch.
Someone find this man a proper fine-dining restaurant – please – it would instantly rank in the nation's top 10.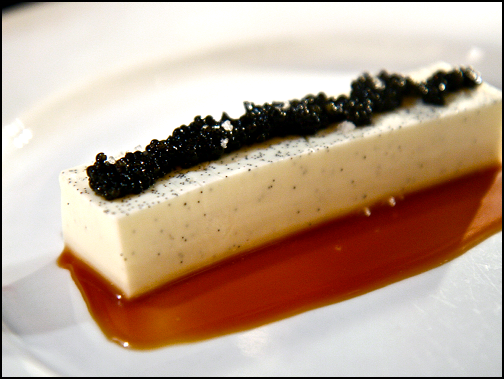 photo by Tomo Style – a LudoBites veteran & one of many dining companions that night
Commis (Oakland, California)
Charentals Melon cream
Carlos Salgado has always been a favorite – his caramelized french toast at Winterland, SF's first (short-lived) foray into molecular gastronomy, was inspired. During his tenure at Coi, his desserts were often more pleasurable than the mains for me; and his work at Commis is equal to that of Syhabout. He is the West Coast's Sam Mason or Alex Stupak, less molecular, more seasonal, equally good.
The dish beautifully captured September in the Bay Area – it was wonderfully aromatic and well balanced. The flavors were vibrant, both the soup and compressed melons, but restrained and light. It was a refreshing end – pitch-perfect for both the meal and season.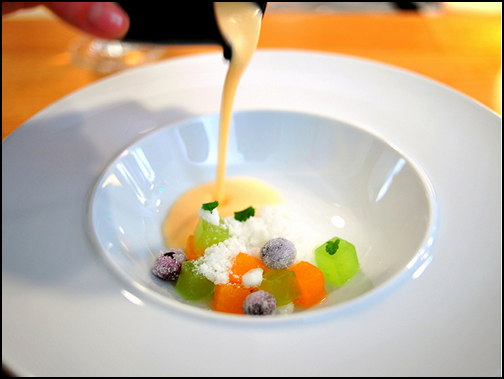 photo by Ulterior Epicure – this dish made his Best of 2010 list too
Ubuntu (Napa, California)
Goat's milk caramel
Pastry Chef Carl Swanson's goat's milk caramel, or cajeta, would be my preferred Kevorkian solution if I were diabetic – the depth of flavor, slight tanginess, and a sickly (in the very best sense of the word) viscosity – are irresistible, even in large quantities. The slow-cooking method, Swanson saying upwards of eight hours if I remember correctly, gives cajeta a depth of flavor that is hard to match in caramel's relatively one-note sugar. The richness was paired with apple, but sometimes, one must forget about trying to balance and simply indulge.

from an October meal
So what will 2011′s perfect meal look like? Like David Kinch, of Manresa, I believe American fine dining will begin to pull a lot of influences from Japan. It conveniently fits into the 2010 narrative the media has constructed, as Japan takes seasonality to its most extreme degree. But lost in the "seasonality" and "foragers of the wild" storylines is the issue of quality – and that is where Japan is such a revelation.
Quality should be the subtext of statements like "s/he makes their own butter" or "they forage their ingredients", not morality or romanticism, when talking about fine dining. It is admirable that someone makes their own butter, or carefully sources grass-fed beef, but what is the point if I can easily buy a better product from retail? There is a lot to unravel here, beyond the scope of this post, but I hope it's the next step for 2011.
Where will 2011 take me? Roberta's in Brooklyn. Kajitsu or Kyo-ya in Manhattan. More Ubuntu meals in Napa. More Georges Modern meals in La Jolla. A trip back East to visit McCrady's, Husk, and Townhouse. An Elements meal should happen. And hopefully a visit to Portland, with Castagna at the top of that list. Most readers know a half-dozen Manresa meals is a given. Locally, 4505 every week for a burger; Una Pizzeria monthly for a margharita fix; and Cotogna for a bi-weekly fix of Michael Tusk's excellent pasta, pizza, and grilled meats. And a dinner date with a wolf.
- chuck
1 – And it couldn't happen to a nicer guy. San Pellegrino, surprisingly, has not been the subject of "food trend" articles; but it arguably exerted its power this year by naming noma #1. Do some research, and it's out there, to see how many reservation requests that ranking generated. Agree with the list or not (I don't because the people voting haven't necessarily eaten at the restaurants), its power is undeniable.
2 – That would be l'Arpege, before the meat courses arrived, and it's hardly a competition. But none of the individual dishes made this list – it was just a tremendous arc where everything worked together. An October meal at Manresa would place second – possibly my best there yet.
3 – Where are the blog posts, dude? Merely two of the eight meals represented here have been discussed on the blog. Some will appear in 2011. The short of it? Commis confuses me (but not as much as Coi), Manresa is getting better (and deserved a third star), Ubuntu is still highly recommended, Quince is the only restaurant I'd recommend over Saison in San Francisco, and l'Arpege's garden lunch menu is one of the great meals, and deals, on this planet.
4 – An arbitrary distinction, but one in-line with the blog. What might make it on a non fine-dining list?
Una Pizza Napoletana might very well displace Keste as my favorite pizza before 2011 is over. There are such a small range of details – salt, blistering, yeast, mozzarella tanginess – and Una can stand up to Keste, jab for jab. Two undisputed masters of their craft.
Humphrey Slocombe's Secret Breakfast ice cream is a weekend ritual. Their Coke float, made with secret breakfast ice cream and bourbon caramel, is always tempting too!
Jacques Genin caramels re-defined caramels, and patisseries, for me. The caramels' texture are on a different level to anything I've tasted. The Wandering Eater wrote a great synopsis of her visit earlier this year. A must-visit when in Paris, particularly in the summer, as the air conditioner is divine.
Boccalone lard caramels are decadent and their nduja is always in my fridge.
4505 Meats cheeseburger – I'm a fairly busy person these days but if I miss my Thursday, or Saturday, 4505 hamburger at the San Francisco Ferry Building farmer's market, I get ornery. If I show up late, and they've sold out, I get downright angry. I am addicted to these burgers and their dry-aged minerality goodness and, outside of the Minetta Tavern Black Label burger, I haven't found any burger that comes close in flavor. Admittedly, the Prime Meats burger, with acclaim over its dry-aged funkiness, tempts me so.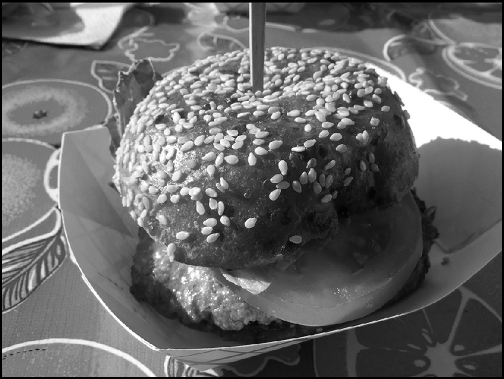 photo by lesleyk – an introduction to the great burger