Table Three at Georges California Modern (La Jolla, CA)
Sometimes, a touch of serendipity will light a spark. Table Three, arguably the best seat at Georges California Modern, looks out over the Pacific Ocean. Squint seconds after the sun sets and you just might catch that elusive green flash. Blue, orange, pink, and yellow fade to black as blips of light, fishing vessels, dot the darkness, possibly netting tomorrow's catch. It is that impossible contradiction – a table with a great view and better food.
Table Three was born out of my last meal at Georges California Modern – where I asked Chef Trey Foshee to "go for it" – and it is now the menu's official name.1
Playing with form and expectation, Foshee successfully captured and plated a sense of time and place for Southern California during that initial meal. Ceviche was re-interpreted; fennel, a nuisance for every yard in the area, was nearing its season close; and lobster and squid made rare appearances, as their season was cut short by weather and prohibitive international demand. The food was exact and nuanced; it should not have come as a surprise to learn, later, that Christopher Kostow, from the then-recently anointed three Michelin star Meadowood, had cooked under Trey a few years earlier. And it was that promise, coupled with spring and summer's bounty from the infamous Chino Farms, that left me wanting to return.
Previous posts have discussed vegetables and lighter menus but there is a subtext waiting for more exploration – the stand-alone vegetable dish in a tasting menu. How many chefs, in a non-vegetarian Western menu, will throw in pure vegetable dishes after the midway point? 2 Even with a heightened focus on vegetables by chefs and the media, where it is hard to escape the surface story, it is rare to get a pause from the proteins as the flavors get heavier and heavier, following a pre-determined arc, or march, to a chocolate dessert. Despite the range of flavors and textures found in plants, and a renewed emphasis on challenging form and expectations, the vegetable dish is rarely seen later in most menus. Sometimes a mushroom dish might take the honors late with its earthy richness. It is an unspoken universal law etched into the DNA of too many tasting menus. So what happens when a meal veers off the expected course and showcases a carrot near the end?
If one accepts the tasting menu as a narrative – a story of the season and place, a conversation between a chef and history, or the culinary expression of some twisted sense of reality (art is not confined to the rational!) – whatever the tale may be – the language and palette available for expression, arguably, has not been fully explored. Instead of supporting roles or props for protein, a vegetable's (and fruit's) range – root, seed, stalk, leaf, flower, and more – can be utilized more throughout a menu. And then there is foraged versus farmed – the flavor concentration of the former posing new opportunities and challenges. And, finally, there is an historical element to explore – such as Sean Brock at McCrady's and Husk in Charleston – where he uses lost seeds and techniques (samp grits? benne?) to add entirely new dimensions to this menus. And what of grains? We're still in the infancy of exploring a full seed to stalk cuisine in fine dining 3 and, for now, it appears that many of America's best chefs are fascinated by the possibilities. 4
Deep into this meal, a simple plate of four or five carrots were presented, sandwiched between brown butter seabass and spring lamb dishes. Toasted breadcrumbs lie sprinkled on the plate and a brown jus was drizzled across the carrots and a few herbs. With each bite, the carrots delivered a strong minerality, the undeniable essence of steak, a strong flavor to stand up to the brown butter before and the lamb next, but with the relative lightness of a roasted carrot. Flavors were still nuanced, the parsley and a meyer lemon yogurt accenting and highlighting the dish just enough, in a way that might have been impossible with actual meat. The carrots had been roasted with a dry-aged steak, some other diner probably the recipient, but I was the lucky one.
It should have been protein, a satisfying meat sustenance that one could sink their teeth into, a steak that could help justify the expense of the menu. 5 Instead, in its place, a few diminutive carrots served with the by-product of a more expensive ingredient. However trivial it might sound, even after many of the strong dishes featured below, these carrots were a bold statement, completely in-tune with my personal culinary sensibilities. It was brilliant. 6
The setting was early May. I forgot my camera but George's photographer was present, in the kitchen, taking photos. All of the photos below were taken by Joel from Ten Eleven Interactive, mostly presented in order. The full menu is pictured below. This was the second of my three meals, the most recent just two weeks ago with Ulterior Epicure, who will likely pen the next Table Three review, unless someone reading this beats him to it. I was obviously known to the house but this meal was paid in full – by me.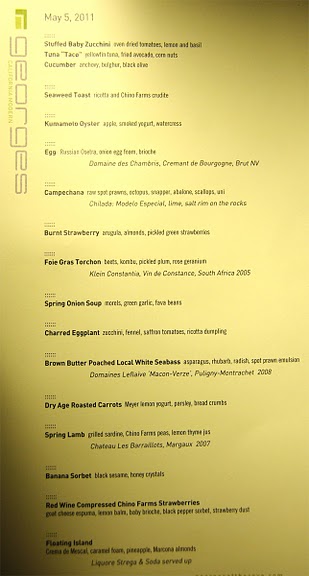 Crisp flavors and crunchy textures give the palate an immediate workout – cauliflower, fava beans, radishes, romanesco, carrots, and more – resting on house-made ricotta. The seaweed toast carried into the next dish – a raw oyster – while giving the crudites a fuller flavor. Smoked yogurt, long in the finish, tempered the expected pop of the briny oyster and a tart apple granita. But it was the small piece of watercress sitting atop, an afterthought in most places, that gave the dish structure and backbone, a spicy cohesion that tied all of the flavors together. It is a perfect example of the refinement on display, where a dish hangs in the balance by one leaf.
After a particularly rich uni broth, served over crudo, Burnt Strawberry – arugula, almonds, pickled green strawberries – refreshed and zapped the palate back. A dueling bitterness between charred red strawberry and a pickled green strawberry fought back and forth, against a backdrop of the fruit's sweetness and the arugula's spiciness. This dish was challenging, particularly its bitterness, but it was balanced and thoughtful with its yin & yang.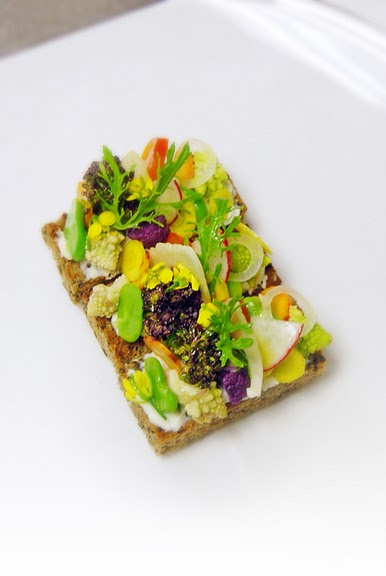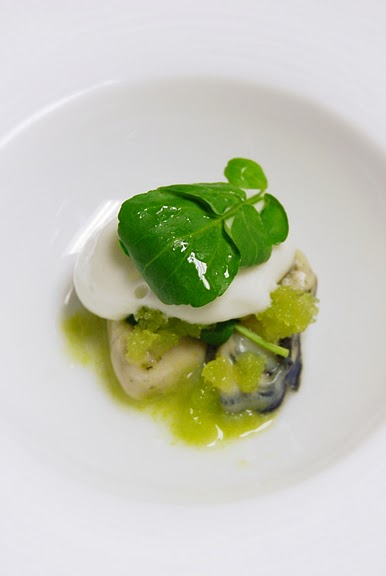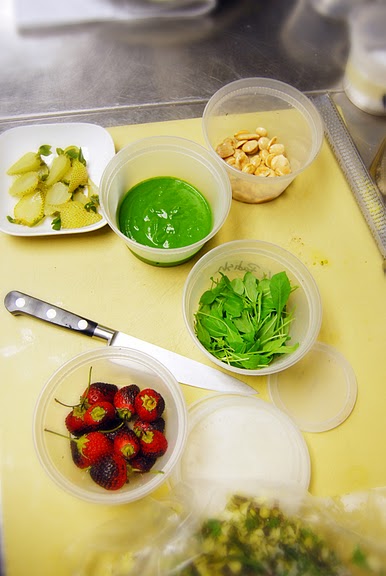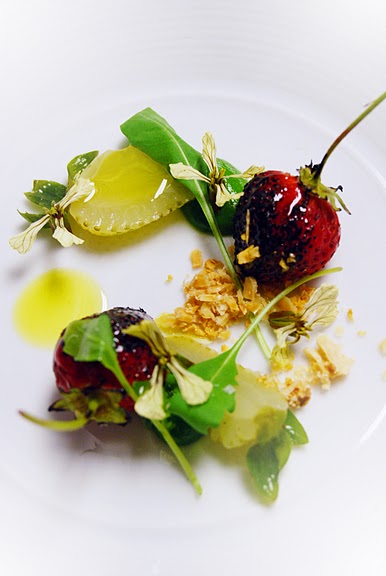 Local snapper was the opening salvo in the last meal, remarkable for its freshness and purity of taste. It is not often that such a clean tasting fish is served on American shores. It was later followed by an equally remarkable swordfish, easily the best I had tasted, served in a dried squid broth that defined umami. Clearly Chef Foshee made a point of not only showcasing the tremendous bounty from the surrounding waters, but of respecting their intrinsic quality and qualities.
The deconstructed Campechana of raw spot prawn, snapper, octopus, scallop, abalone, and uni would have been impressive enough served as crudo seen below. Each was cut thin, emphasizing taste; like the spot prawn being sliced very thin to highlight its sweetness instead of its raw texture. Without broth, it would be difficult to call it campechana. A cool, rich, and briny uni broth was poured table-side over the seafood, with the excess left on the table, where gluttony (it's uni broth – keep pouring!) threatened to disturb the delicate balance of sweet and briny.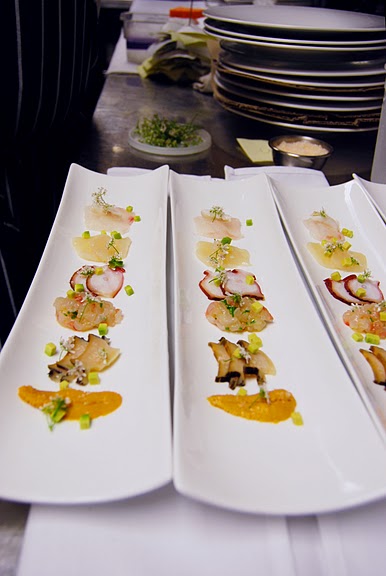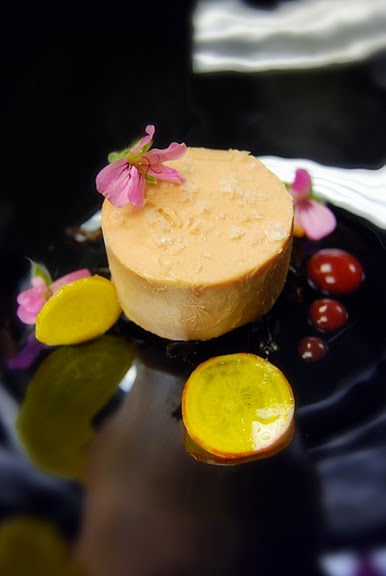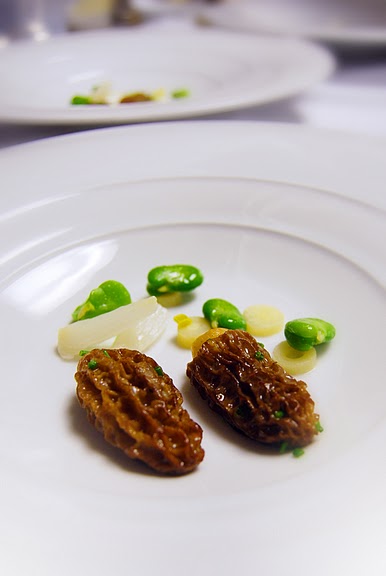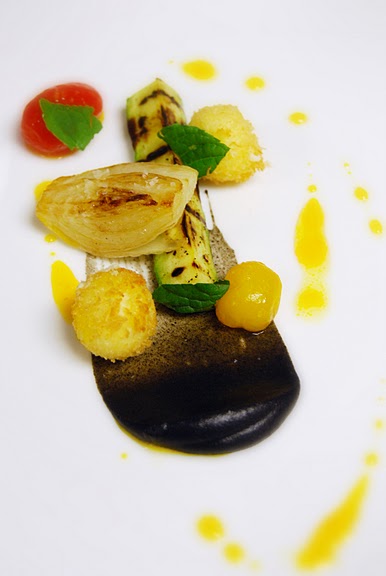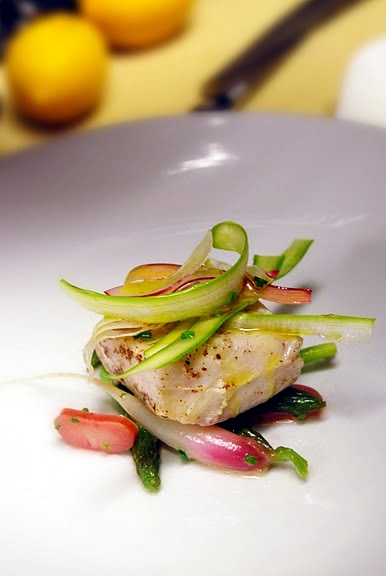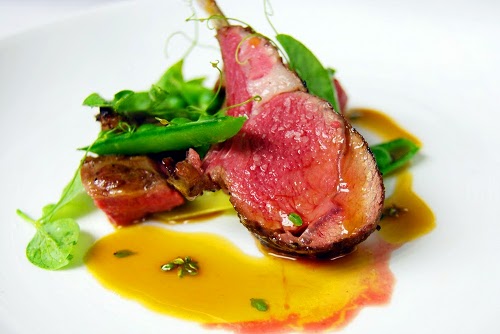 Where there are heavy proteins in the savory courses, there is heavier chocolate at the end of many tasting menus, a big overbearing wallop for those that are still conscious. It is unusual to find desserts that not only complement the main courses but continue the trajectory of the meal, repeating or re-discovering themes featured earlier. Albert Adrià, brother to the more famous Ferran, has influenced a generation of pastry chefs to go beyond the continental classics, to explore the territory between savory and sweet, and to question the forms that dessert often takes. The Table Three desserts do not occupy the more radical side of these ideas, but they have been in-tune with the meals, as opposed to the more traditional notions of distinct dessert.
Incorporating an Asian tendency for fruit, and mindful of the courses before them, the Table Three desserts are satisfying endings. Red wine compressed strawberries, from Chino Farms of course, were intensely fragrant and powerful, enhanced further by pepper ice cream. Jabs of lemon balm cooled the strong flavors. The wine, strawberry, cheese, and pepper combination is nothing ground-breaking, it's basically Italian, but the flavors and textures were very targeted and exact. They show off the bounty of the land – finishing the story of the savories.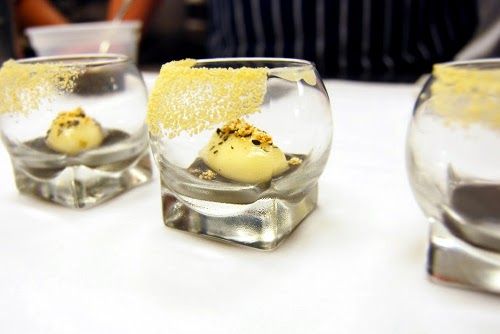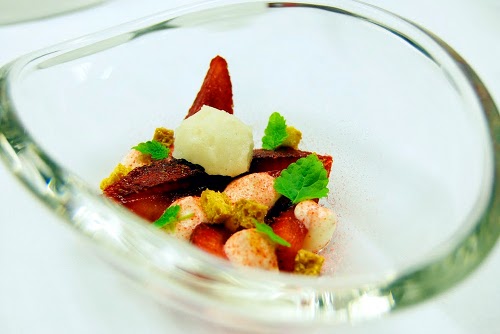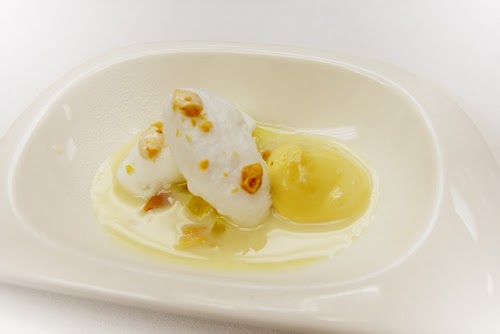 Vegetables and seafood feature prominently throughout, the quality of the raw product always emphasized and respected. Textures are deliberate and thought out, sometimes across courses. Greens are used judiciously to accent, flavor, and tease out structure. Umami is used effortlessly to wonderful effect. The tyranny of the protein 7 is not entirely absent but vegetables are used to much more dramatic effect than most menus. Mexican nods are present, Chinese inflections exist, and a Japanese undercurrent runs throughout; not unlike the melting pot of San Diego. Go now.
- chuck
1 – Table Three must be requested several weeks in advance on a weekday. It is limited to a limited number of people per night. You must book directly with Kristine Fogarty, Director of Special Events on the main phone number for the restaurant. The name Table Three is a homage to the table where the concept was first served, sitting against the window, looking out into the ocean.
2 – By no means an exhaustive sample but I went back a few years and I didn't find much. Manresa, Coi, noma, (the original) Geranium, and a recent "Smith" dinner by Jeremy Fox were the only examples from my personal meals. Coi was the most daring – in one meal, never reviewed, Daniel Patterson eschewed red meat entirely and simply served a farm egg as the final course – it was a "wow" moment. (Unfortunately, my subsequent meals there have all featured the big protein bang at the end.)
3 – Jeremy Fox first coined this term when he cooked at Ubuntu.
4 – Where are the grains? With the emphasis on vegetables, grains would seem like a natural extension, ripe for exploration. Aside from limited supporting roles, texture for a crudo or a bed for a hunk of meat, grains have a small presence in fine dining. Saison's Brassicas is the only (American) dish I can think of that has taken a grain to three-star levels.
5 – For all of the pyrotechnics and influence of molecular gastronomy, and on challenging forms, proteins reign supreme after the midway point of tasting menus. Obviously one can not overlook the commercial realities of running a restaurant. Diners have been conditioned to expect meat as a symbol of value and satiation, if nothing else. Value for most is still tied to luxury ingredients; value, to me, is thoughtful food that provokes, no matter the ingredient type.
6 – I am not suggesting this meal was unique with its dedication to the vegetable; in fact, the motivating thought was probably more "this is San Diego right now" than "these are vegetables." L'Arpege has been doing this forever, brilliantly with the exception of (my experience of) oft-overcooked proteins at the end; Michel Bras when you order correctly, noma, Manresa, Ubuntu, etc. What was unique, from my experience, was the effortless transition from protein to vegetable, deftly flipping back and forth, maintaining an arc, and satisyfing sustenance – Geranium was the last restaurant that seemed to pay no attention to a distinction.
7 – I might have to trademark this term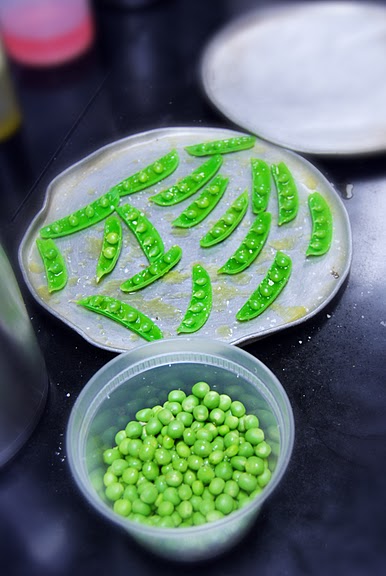 All photos were taken in the kitchen by Joel from Ten Eleven Interactive