Town House (Chilhowie, VA) – Modern Natural
A motley crew rambled into town, nearly driving by the restaurant in search of a bucolic pasture, despite big bold letters reading Town House on the back of a wall – "that's not it – it's in a field." Collectively, to a person, we were already looking past Main Street USA for green rolling hills in the mountain mist ahead – "keep going!" It was thought to be a place where the Shieldses (John & Karen) could just step outside and pluck wild herbs for the next course. The mythology of its remoteness had clearly fogged our senses1 until The Ulterior Epicure, on a rare pause from the gas2, pulled in for a closer look. Spotting liquid nitrogen tanks, he asked "Who else in Chilhowie would use those?"
It was a fitting introduction to an evening where modern and natural themes bounced off each other. Mugaritz3 and Alinea clearly resonate within the walls of this charming restaurant tucked into the Blue Ridge Mountains of Virginia. But is it as an unlikely place as many others have written?4 Does its molecular bent and high aspirations render it misplaced? The food, with its careful juxtapositions and suggestive forms, casts a new light on the land – a swath of the Virginia countryside picked, plated, and processed, always with a tweezer's precision. Vegetables and herbs play large roles throughout and some plates could be mistaken for the landscape itself. The compositions might look challenging at first but it was effortless eating – the technique buried into the flavor.
The Shieldses turned down the financial returns of Vegas for personal rewards – an opportunity to cultivate a style of their own. Scrolling through the earliest pages of the Town House blog5, one finds a more-is-more approach – possibly the n+1 world of Achatz's Alinea.6 The dishes appear to be busier and less focused, the burgeoning of their Virginia cuisine. In the meal below, the environment appears to creep in more carefully, minimalism has value, and nature's wild flavors are as often responsible for the "oh wow" moments. It is exciting to consider the progress over the past three years and what the future holds – a case for the artist in isolation.7 Relentlessly refined, appropriately remote, the restaurant belongs in Chilhowie, Virginia.
"I know exactly where you are: You're in the middle of nowhere, and that's what we're looking for." – John Shields
This meal took place last Spring, the second stage of an impressive three part journey that also included Sean Brock's Husk and McCrady's. John Shields knew this wild bunch was on its way – Miss OMG, TomoStyle and The Ulterior Epicure (you can read his review here), with whom the Shieldses shared a meal with at El Bulli in January. We were offered a 20-course menu, on a quiet night, instead of the normal 10; and we paid in full. All of the photos below were taken by The Ulterior Epicure – would you bother taking your own?

Sorrel Leaves & Finger Lime

Malted Bread – Foie gras, anise, fennel
To settle into the meal, Shields served the field that never was in two quick bites. Sorrel leaves, with whimsical dew droplets, had an expected acidic zing but were touched with a faint sweetness. Biting down, the finger lime pulp, citrus caviar, burst with stabs of acid. But was that real dirt? For a table of experienced eaters, there was an unusual degree of trepidation – it really looks like dirt. There were bitter dark chocolate notes but the line was blurry and no was one certain what it was.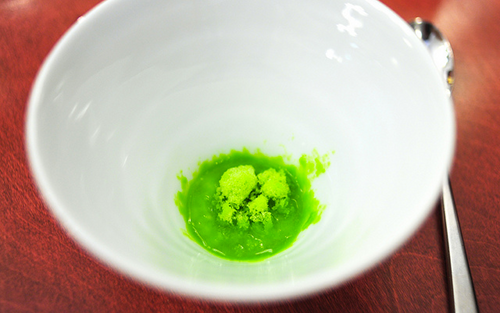 Peas, Bechamel of Rancid ham

Chilled Vegetable "Minestrone"
Colorful and diminutive, with a landscape all its own, the fourth course was a homage to the Michel Bras classic – the vegetable salad. It has become the culinary equivalent of the Aristocrats joke8, a riff on well-known parameters, but with an endless range of interpretations – an inside joke for chefs and diners alike. Shields' version consisted of vegetable curls, each stacked vertically in a pickled broth, and playfully called "Minestrone". Others have commented that each vegetable is cooked in its own liquid to preserve the crispness of flavor, inline with the Bras technique.
Somehow, it did not wow me. It was an enjoyable dish but, given my current sensibilities, I thought it would do more. There was a distance between vegetable and broth, a distinction that I could not reconcile. In a similar dish at the original Geranium (Denmark), The King's Herbgarden, there was more soup for more equal ratios. That dish also had more variety; perhaps this minestrone was more nuanced and I was not prepared. It is a dish I would like to repeat, for it is universally praised on every other review.

Oyster… Natural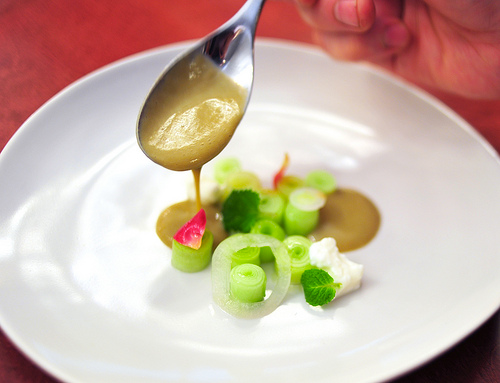 Preserved Cucumber – Rose, spring onion, clove, oyster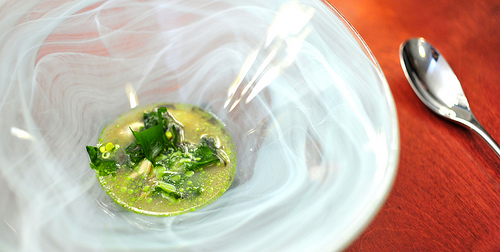 Warm Soup of Oysters – Grapefruit, mussel bouillon, radish, buttermilk, fish roe butter
There is no ocean nearby but Shields is very capable with seafood, successfully extracting intense briny essences. The first of an oyster triptych, "Oyster… Natural", simply and refreshingly linked the oyster to the plant of its namesake. "Warm Soup of Oysters" was powerful but rounded with dimension, presumably the grapefruit and buttermilk adding subtle touches of sweet and sour. Each course amped up the flavor and richness, culminating in a refined lobster preparation – lobster coral cream, lobster meat, and lobster aspic consomme. It was bold but blissful, a slow tempo dish – a consensual pause in the menu where the bites are savored longer. Each layer was successively more clean, and while they mixed in the mouth, they still maintained some independence. The aspic hit first with its lobster essence and the cream would coat the mouth as you chewed on the sweet tender lobster. French in its luxuriousness but excessively modern in its clean approach.

Maine Lobster – Cream of the shells & consomme

Soft Shell Crab – Onions, seaweed, sunchoke, stewed rhubarb

Heirloom Potato & Turbot – Enriched with egg, shad roe, lovage, broken mayonnaise

Skin from the Turbot & Bonito Vinegar
Like many modern meals, the menu plays on expectation. Our first encounter was obviously the dirt but surprise was used to extraordinary effect with a duo of cephalopod dishes. A "Squid Risotto" was creamy and toothsome, and without rice or dairy. Each grain was diced squid that very effectively approximated the texture of al dente rice. The rice to liquid ratio approached that of a just-soupy made-to-order risotto. For me, it had that bliss of a near-perfect risotto, one where each grain is savored. From toothsome to silky, the cuttlefish in "Sheets of Cuttlefish & Pork Fat" was indistinguishable, both visually and texturally, from lardo. It was impossible to distinguish what was on the fork, or in the mouth, until biting and tasting the different sweetness, and savoriness, from each. Who knew the similarities that could be derived from each of these ingredients? This is not craft – it is art.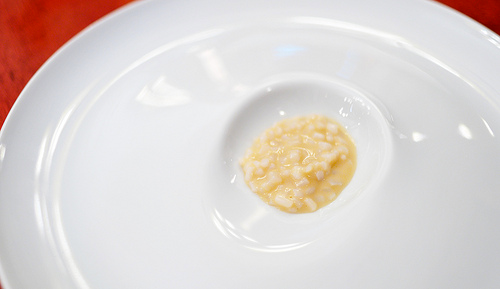 Squid Risotto

Sheets of Cuttlefish & Pork Fat
Where many throw in the giant proteins at the end, often contrary to the balance and precision of earlier courses, Shields continued in his style, light and refined. He brought an element of excitement and ingenuity to the meat – clearly re-thinking alternatives to the usual 'just serve them top grades' approach.
In a reversal from my last post, where I lauded the virtues of umami carrots, Pastoral was a stunning near-end to the savory dishes. A circle-of-life dish – cow eats hay, cow produces milk, all plated together for one final reunion – a modern interpretation of the what grows together should be eaten together ethos. The hay-smoked milk permeated the beef cheek and its finish lasted long – this was one of my favorite meat dishes of recent memory.

Pork Tail & Dried Shellfish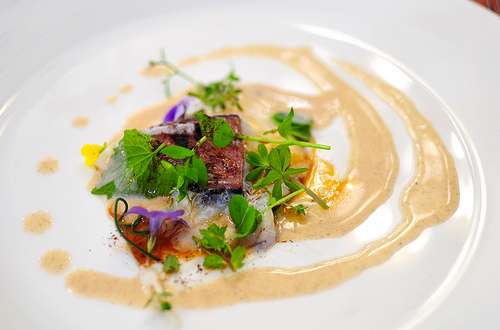 Beef Cheek – Cow's milk infused with roasted hay & farro… Pastoral

Border Spings Lamb Belly Glazed in mushroom stock – juices from apple, sassafras, malted yogurt, pine shoots
And, then, day becomes night.
In a typical tasting menu, the momentum of flavors and textures, the story, abruptly shifts from savory to sweet, tradition far more important than the tale at hand. It is often the third change-up in less than five courses – from composed dishes to giant protein to sticky sweet, sometimes with the benefit of an intermezzo type course. Town House eschewed these unwritten rules, taking arc, style, and flavor into consideration, following through on the savory menu instead of tacking sweets on. Savory exists in Karen Shields' desserts – to amazing effect.
Continuing, not beginning, with a dark and rich Liquid Chocolate Bar, in sequence after the lamb, she immediately switched the progression to something more sensible. Dark to light – Why not serve the richest dessert after the heaviest course? And then work toward a soft landing, or denouement.9 The dessert itself was beautiful, suggesting charred land, sweet but playing off the bitterness of the (awesome) ice cream of burnt embers and dark chocolate.
Earlier, the Ulterior Epicure had declared dill his favorite herb of all – and that was met with some quizzical looks – "dill?" After Curd of Sour Quince & Olive Oil, where dill prominently featured, it was unclear if his smile was happiness, or vindication. This was possibly my favorite dessert – ever. The dill danced in a lithe manner across a sweet and sour palette, punctuated by thrusts of pepper. Words are very unnecessary, they can only do harm…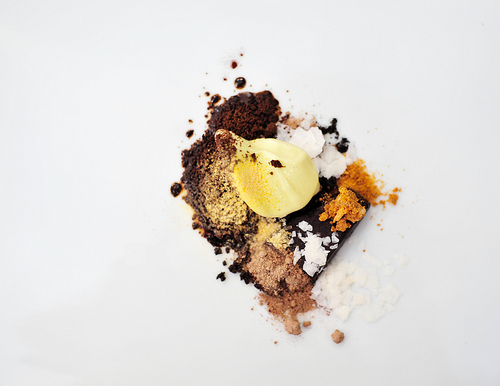 Liquid Chocolate Bar – an ice cream of burnt embers, sour yogurt, milk & sugar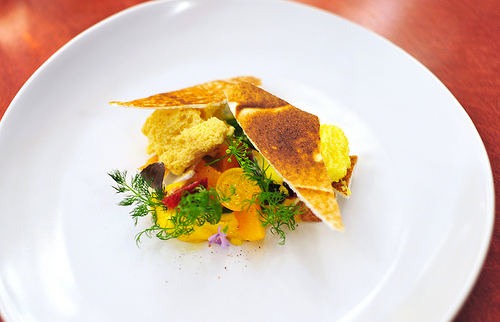 A Curd of Sour Quince Juice & Olive Oil – Black pepper, dill, pine ice cream, toasted meringue

Broken Vanilla Marshmallow – Lemon & cucumber, sorrel, softly whipped cream, green strawberry

Rocks
A culinary tour of the South is as seductive an adventure as one could embark on in the United States,10 with Town House, Husk, and McCrady's one possible itinerary. The Shieldses are artists who are re-defining a cuisine of their region. While nothing screams "Southern", like Husk, the food is very much of the land. Ambitious and creative, it is firmly two-star territory, often shooting into three, with desserts so remarkable they would be worthy of the Michelin Man's last meal.
Or, as the Ulterior Epicure said in his review, you can't get there quickly enough.
- chuck
1 – There is an inn – Riverstead – a sister property to the restaurant that sits on a farm. I think we all thought this also served as the restaurant. Caviar and Codfish did not take pictures of their Town House meal but they beautifully photographed their room at the inn.
2 – My foot is just as heavy and I should have been the one pulling into the restaurant. However, Sean Brock, divining the full force of Pappy Van Winkle, condemned the Ulterior Epicure to a full weekend of driving – see Brocked.
3 – Cited by Shields as his favorite meal ever, on his honeymoon to boot! (He could've said ChuckEats for #5 but you can't win them all!)
4 – It's an interesting questions with many layers to it – economic, social, class, tradition – one that I won't touch on here. Why shouldn't it be here? Why is it surprising when a high-end restaurants opens up in the American countryside? And, a follow-up question might be: Why aren't there more in a culture of the car? Could a Faviken Magasinet exist in America?
5 – Town House Grill bleeped on my radar when they, like Elements before them, began linking to my blog. Their blog had interesting looking food but why was there a "Grill" in their name? It has taken me three years to make it out there – don't repeat my mistakes.
6 – This is not a value judgement – John Shields worked there before and I quite enjoyed my Alinea meal. However, most Alinea dishes do not appear complete unless one more ingredient is added to the mix. Saveur had a great slideshow of Alinea dish sketches – good stuff.
7 – On my cross-country drive a few years ago, Louisa Chu recommended a place in Colorado called Keyah Grande – "go", she said. It was five hours from anything. The official web site had burgers and steaks, with some game meats if i recall. But the restaurant was run by a husband / wife team – who also had a little ol' blog called Ideas in Food. Both meals there were fantastic. And now Alex and Aki get the credit they deserve, thanks to years of innovative work and a recently published excellent book.
8 – I'm not sure who originally came up with this analogy but I think it's appropriate and apt. If it was you, please let me know so I can give proper credit. Who is the Bob Sagat of Gargouillo?
9 – Aaron London, the current chef at Ubuntu, for which I sadly have no review of yet, uses this approach to ease into the dessert courses. I did share this meal with Doc Sconz last November.
10 – The reviews for Husk and McCrady's will come one day! Other stops on the adventure could include Scott's BBQ (who, with Sean Brock, won Best of Show at this weekend's Meatopia in Brooklyn) an hour outside of Charleston; Bacchanalia in Atlanta; a drive on the infamous Tail of the Dragon, which leads right into Blackberry Farm in Tennessee; or you could approach it from the Washington DC vector.
Some other reviews of Town House:
- The FoodandBeerMonger
All photos taken by The Ulterior Epicure & used with permission.