Perfect Meal 2011
Gastronauts from the future, powered by time machines, will peek into 2011 and see a variety of interesting trends – the new naturalism is still strong, vegetables are claiming more plate real estate, and aged meats are gaining popularity. In America alone, they will see, despite Michelin's proclamations, a shift in the creative nexus, from New York to the Bay Area. If Michelin ventured beyond the interstate, they would reward serious work being done around the country. 1 And if one of these gastronauts stopped me today, asking about the times, I would tell them "This was the best I can remember in my decade of fine dining." And then, needing to know before they zipped back to January 2011, I would ask "which restaurants below went on to become great?" All of them could.
Every year I publish my "perfect meal" – a list of dishes, in some approximate tasting order, that could sum up one year. It is equal parts best-of and fantasy, bending time and space into this glutton's culinary dream. Across America,2 Germany, Benelux, and France – these are my top dishes from 2011. 3
Tuna Head Cheese – Saison (SF)
Saison, in one year, has quickly vaulted to one of my favorite restaurants anywhere – and it still has room to grow. Josh Skenes' Brassicas dish won me over – an astonishing medley of leaf and grain textures, roasted ever so slowly over the embers. That fire keeps calling me back.
It should not have surprised me that the dimunitive tuna head cheese, served two weeks ago, was every bit as good, a protein equivalent to that vegetable masterpiece. Wrapped in sea leaf, the variations of texture, fattiness, and taste were teased out with every bite. There were minute temperature changes throughout since the meat and scraps had been roasted slowly over the embers for different intervals. A slight smokiness, salinity from the sea, the crunch of the leaves, this dish capitalized on everything Saison does great. Judging from the scarcity of tuna heads, the kitchen counter has its privileges.
My favorite dish of the year.
Natural or Molecular? Internationally, the pendulum has swiftly swung into the "natural" cycle of this false dichotomy. As muse, it has sent countless chefs scurrying the countrysides for obscure ingredients – the blind surfing a trend, others going positively mad, and a special few trying to re-imagine a cuisine of their land. Vegetation is often the reward and it lends this new cuisine identity across countries and continents. The vegetable is still competing against meat in conceptions of fine dining but more chefs are manipulating the flavors and textures of the product; and truly incorporating vegetables as equals to umami-easy meat.
Brussel sprout leaves, smoked monkfish eggs, mustard – la Grenouillere (Montreuil-Sur-Mer, France)
La Grenouillere served the brussel sprout leaves late in the menu (course six of nine), accented by the smoked roe, and seasoned by the mustard flowers. The roe sat hidden inside the architectural bud leaves. With each crunch, the smokiness of the sticky roe was released and then finished by the spicy mustard. Three simple ingredients, light but with strong flavors, where the minimal protein played a supportive role to the two brassicas. Disheveled and pushing off the rim of the plate, it exemplifies the rebellious streak running through Alexandre Gauthier's French food.
Just across the border at In de Wulf, Kobe Desramaults' Plaice fish with leek dish showed how a protein and vegetable could play off of each other on opposite sides of the plate – as equals. The textures of the gelatinous fish and braised leek shared similarities – the fish with its umami-like gelatinous flesh and the leeks with their mussel stock braised fibrous stalks. The leeks brought a sweetness to the gelatinous sensations in the mouth while the intensely acidic herbs pierced through both. Reversing the title would have yielded the same dish. 4
Plaice fish w/ roasted bones sauce, Leek – In de Wulf (Drancounter, Belgium)
Dry age roasted carrots – Georges Modern Table 3 (San Diego)
And then there were those carrots. In an audacious move, Trey Foshee served the carrots without the steak as the near-finale for a Table 3 dinner – carrots, breadcrumbs, brown jus, and parsley / meyer lemon yogurt. Tasting of the undeniable minerality of aged steak, the carrots carried the strong flavor for this late position in the menu, but with the relative lightness of a vegetable. But the flavors were still nuanced – the parsley and meyer lemon yogurt accented the dish just enough, in a way that might have been impossible with actual substance of meat. It was a play on essences and expectations – a bold move by a confident chef.
As vegetables gain acceptance, it is surprising that versatile grains and seeds are largely relegated to small puffed textural components of many dishes, or risotto, with and without quotes. It is unexplored territory in modern fine dining – one that is quite baffling.5 Dishes that feature grains, such as Dan Hunter's dish below, are often the clear favorites at most dinners. Mix in the exploration of lost grains, such as the work Sean Brock is doing with the Southern Foodways Alliance, and one has potential to create inventive, unique, and popular dishes.
While the pig ears were my "favorite", it is the work with grains and forgotten seeds that is most inspiring about Husk, and Sean Brock. There were hints of this during my first meal at McCrady's, three years ago, and it's inspiring to see Sean Brock preserving, growing, & championing these ingredients in his cooking.
In Dave's Clams with samp grits, the corn is cracked by hand, an inefficient process used long ago. But the results – a texture of al dente rice but tasting of corn! In a different dish, benne, a predecessor to modern-say sesame seeds brought over by slaves, provided a slight bitter contrast to sweet meaty soft-shell crab. While others scour forest floors, Sean Brock hits the books, bringing a unique, and historically important, Southern perspective to the loose confederation of naturalist restaurants.
Dave's Clams – Samp & Sausage – Husk (Charleston)

picture by Ulterior Epicure
6
Egg yolk, rye, legumes, yeast – Manresa / Royal Mail dinner (Dan Hunter)
Sharp flavors and crunchy textures were unleashed with each bite of this table's favorite dish of the night. The egg yolk binded the ingredients together and provided a creamy backdrop for the punctuating rye and earthy raw sprouted legumes. Each chew held a mouthful of surprises – Dan Hunter has created a masterpiece out of a seemingly simple composition.
Missing in the naturalist cuisine, often in the moment, is a a strong tie to signature dishes – a dish that has been refined over many years. The signature is a beacon and guide post, a point of reference for the chef's entire world view. And yet a fascination with what's seasonal this hour, and/or what's trending now, has pushed this device off of menus.
The menu, from reading online reviews, does not seem to change much at Soto. Amidst a series of dishes that sputtered between ok and good, this textural sensations of Uni Ika Sugomori Zukuri were obviously developed over many years. Toasted seaweed, raw egg, sticky mucinous raw squid, and creamy uni – a brilliant masterpiece of sensations and textures that unfolded as it coated your mouth. A lone shiso leaf sat inside, a foil for the richness, and a guiding light to the end. Worth the price of admission.
Uni Ika Sugomori Zukuri – Soto (New York)
And then there's meat – an antagonist for this blog, with its homogenous and overbearing character in tasting menus. Too often, a Continental meat dish will appear as the final two courses of a tasting menu – predictable and overbearing with a lack of "chef"-ness. Be it is price, consumer expectation, wine preferences, or "that's the way it's always been done", the final courses are often uninspiring and dull. But something happened this year – more chefs began aging – which, arguably, makes for more interesting meats.
Served raw, aged over six weeks, the cote de beouf served during the Roberta's tasting menu had minerality and funk – a transformation from typical steak. After several courses of aged birds and meat, this dish still stood out as the most remarkable of four. I got in minor trouble for gnawing at the bone – before asking anyone else.
And then, more locally, Saison began a serious dedication to aging fish, birds, and red meat. Many of the meats were re-inventions of those proteins, some stretched to their limits, and it is hard not to include all on this list. The 50-day aged Paine pigeon left the most impact – it tasted of Epoisses with tremendous umami qualities – so strong that each bite ended with a compulsory need to lick for ten to fifteen seconds later. It also had strong cherry notes with a waxy texture, devoid of most moisture. It was not for everyone but it was unlike anything I have tasted before.
Cote de Beouf, fingerlings, spigarello, sweetbreads – Roberta's tasting menu (New York)

photo by The Girl Who Ate Everything
7
50-day aged Paine pigeon – Saison (San Francisco)
It was not aged but John Shields' Pastoral was perhaps the most inventive and satisfying composed meat course I have tasted. It was a circle-of-life dish – cow eats hay, cow produces milk, all plated together for one final reunion – a modern interpretation of the what grows together should be eaten together ethos. The hay-smoked milk permeated the beef cheek and its finish lasted long. It is rare to see such a composed meat course, nearly as elusive as the composed cheese course, and this dish capped a remarkable run in a tremendous meal.
Presented with a piece of meat at the end, Thomas Bühner's Pure Venison looked like that typical protein punch. But, in an unexpected twist, he intensified the iron-y essence of this meat by sous-viding it with its own juices and spices. A simple piece of meat, concentrated in flavor, boldly claimed that, yes, a protein can be exciting at the end of a tasting menu! Many of the dishes at La Vie were quite good and Bühner deserved his third star.8
Beef Cheek – Cow's milk infused with roasted hay & farro… Pastoral – Town House (Virgina)

Photo by Ulterior Epicure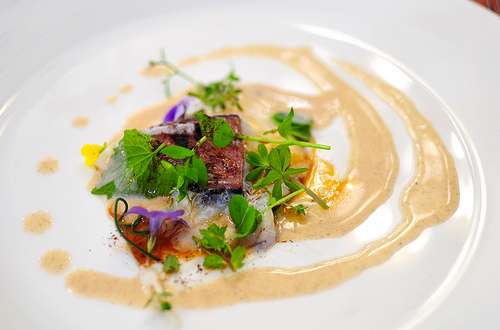 Pure Venison – La Vie (Osnabrück, Germany)
While hard to dislike dessert, it is harder to love it – pastry programs are stuck in a Continental / chocolate cake mode while the savory food pulls away in new directions and re-discovered ingredients. Even when the styles of savory and sweet complement each other, the arbitrary distinction creates a barrier to cohesiveness.
Craig Thornton of Wolvesmouth approached the problem by reversing the order – presenting dessert as the first course. (And it worked!) With references to Ludo's infamous panna cotta with caviar (featured on 2010′s Perfect Meal post), the pops of smoke and brine, with each creamy bite, invigorated the familiar tastes of cinnamon toast and maple syrup – wow. The roe was so powerful that it nudged the dish closer to savory territory.
Smoked Steelhead Roe – Cinnamon French toast ice cream, green apple, BLiS maple – Wolvesden (LA)

photo by Ulterior Epicure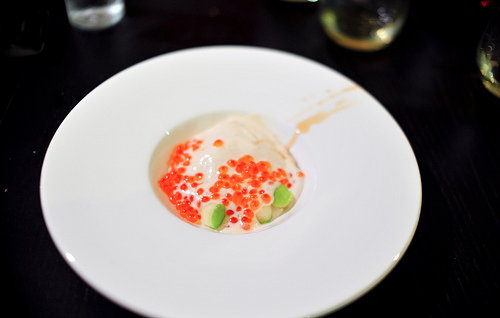 Pear – Atelier Crenn (San Francisco)
My two Atelier Crenn meals were near perfect, without mis-steps. It could be a case that every dish was so strong that none jump out for inclusion on this list; but a glowing post is next on the schedule. This pear dessert, however, is a stunning representation of, and transportation to, Fall – a fallen pear on a bed of early snow. It is poetic, beautiful, and harmonious with the larger tasting menu. The snow yogurt, a technique loved by too many chefs without regard for abrasive temperature and texture, melts instantly into just-creamy enough while the pear sorbet, shaped as a pear, provides a nice bright balance of acidity. Sage granita rounds out the background flavors. Dominique Crenn, like Quique DaCosta, has a rare ability to abstract dishes further – moving from representation to experience. Pastry chef Juan Contreras is one to watch.
And then there was the dessert of the year, if not my life.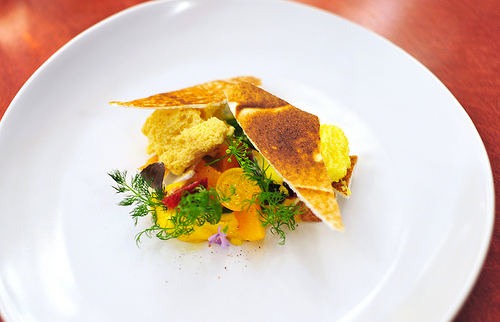 A Curd of Sour Quince Juice & Olive Oil – Black pepper, dill, pine ice cream, toasted meringue – Town House (Virginia)
Photo by Ulterior Epicure
Karen and John Shields, of Townhouse, are married and this probably helps explain why their menu is so cohesive from beginning to end – savory and dessert blend effortlessly into each other. The desserts started rich, following lamb, and progressively got lighter with each course until the meal ended as light as it began. Here, the dill danced in a lithe manner across a sweet and sour palette, punctuated by thrusts of pepper. The textures had tremendous range with each bite – from herb to meringue to curd to ice cream – this dessert was using the full array of tastes and textures available.
What's next? Molecular unleashed an investigation into form and tradition; and Naturalism has focused those efforts on the land. The pyrotechnics of molecular were traded for the surprise of "can this be real?" History is being mined for lost ideas, techniques, and products. And nature still has much to reveal, especially through the lens of science. What happens when we start analyzing foods and recipes en masse, every book in every language ever published, for flavor compounds and combinations? Across cultures? Across times? Flavor Network and the Principles of Food Pairing opened my eyes to the possibilities of cloud computing muscle when applied to food – start archiving, mapping, and graphing – then find the big data geniuses to tease out new points of view for culinary exploration and artistic expression.
There is a limitless world of infinite possibilities – everyone just has to dream.
- chuck
on Pinterest: http://pinterest.com/chuckeats/dishes-of-the-year-2011/
1 – Town House, McCrady's, Husk, and Elements immediately come to mind.
2 – New York, Charleston, Chilhowie, Los Angeles, San Diego, Portland, and, of course, the Bay Area.
3 – I'm pickier and dining trends are merging with my sensibilities. Quite a few meals were considered for this "best of" list and many hard choices were made. A few repeats from 2010 are not listed here (Abalone raw milk panna cotta from Manresa, Brassicas from Saison, and Peas, White Chocolate, Macadamia, Chocolate Mint, Pea Broth from Jeremy Fox.) These would be hall of fame dishes. Castagna in Portland, helmed by Matthew Lightner at the time, had such singularity but it was not included here because my notes were lost and the restaurant's lighting was too challenging for my camera. One or two dishes, including dessert, would have made it onto this list. His new restaurant, Atera in New York, could be the most exciting opening of the year.
4 – An In de Wulf post is mostly written and will be published soon. Every dish was very strong – and the meal, as a whole, was one of the best I can remember. The food has a minimalism that approaches kaiseki – every ingredient has its place – without relying on easy crutches. There were no hits per se, just a very impressive line-up of dishes. Stay at the very reasonably inn above the restaurant and make sure you grab breakfast too!
5 – If you know of examples, please let me know.
6 – All Ulterior Epicure were used with permission. We shared the meals where he is credited with the photo so the dish pictured is the dish across the table that was consumed.
7 – This photo by The Girl Who Ate Everything was used with permission – and we shared this meal.
8 – This meal was paid for by the National German Tourism Board; but it was sensational. A blog post will be written in the new year. A trip to Germany should include this restaurant on its itinerary.