Oh, the helpless customers beguiled by tyrannical tasting menus. They are unwittingly tricked into a gluttony they did not want. Disregarded in the chatter, however, is the ability of extended menus to better showcase intricate food. The longer form creates a narrative space,1 where the chef can explore and create dishes that unfold on their own terms. The tasting menu at Commis now has a depth and nuance that better frames its sophisticated dishes. The tyranny, in fact, is a liberation from the previous disjointed a la carte offering.2
Elegance weaves through this longer menu, one which was cut short before. James Syhabout's subtle flavors pulse lightly throughout. Delicate sauces, some impossibly light and ethereal, turn up on several dishes and make the entire meal lighter. Proteins feel smaller and more integrated into their surrounding courses. This menu is now ruminative in its precision and deliberateness – tight and nearly perfect.
A quiet intensity naturally flows.
There is also difficulty in pinning the food down to a certain style. It is rather unique. Ingredients are fresh, farmed, foraged, and mostly local. There is much California in approach but its precision and technique is anything but figs on a plate. Plates might look Naturalist, but the similarities mostly end there. Its lushness might recall aspects of Nouvelle but the food is obviously more modern.3 Textures are well thought out but naturally blend into the fabric of dishes, without the daring of an El Bulli or Mugartiz. Maybe it is just Alameda Country processed through the Commis filter – which happens to be a captivating personal vision.
The food has always been good, and sometimes great, but the best dishes were trapped in a format that did not feel true to their aspirations. They were inhibited. In its first incarnation, Commis ran three courses with an amuse. Two small intricate dishes, very much of the leave them wanting more vein, a giant protein thud, and dessert. It was as if there were two menus. It jumped from the artistry of amuses to the large sustenance of proteins, without warning. Wooing and temptation with one bite; a forceful slam with the next.4
Picture a remarkable dish of vertical carrots, brown rice vinegar, honey, and seaweed. The seaweed brought out the umami in the earthy carrots, marrying earth and sea. The vinegar and honey tingled the senses, a sweet and sour pull that opened up the flavors on this spectacular dish. It was inspired work, then at the vanguard (2009) before the current vegetable craze. Cooking with flavor profiles instead of ingredients just made sense after eating this dish. But it was immediately followed with a large piece of grilled fish. There may have been bright flowers, or an in-season sauce, but the jump was too drastic. There was no flow.
So I waited for a longer menu. A second meal in 2010, with more courses, had similar moments – brilliance followed by odd serving sizes and incomplete jumps. Then the menu went back to four courses. And so I waited. For this meal.5 March 2013. When is the next reservation available?
A Pacific oyster was served with mustard cream under a mousse of pea leaves. Brine was the initial rush of flavor and then gave way to the the smoother vegetal-ness. A wave crashing and leaving the quiet foam behind. The mustard was subtle and filled in the edges – twirling and biting in the background. The luscious mousse was the first of several seductive sauces. Much of Commis is framed in this one bite – product, textures, and nuance.
Think of the mousse as it disappates. Syhabout really understands texture6 – silky sauces, crunchy contrasts, complementary components, and its timeline. Here he played off the silken similarities of stringy crab and wilted sprouts. Their densities however were very different and threw an interesting twist on the complements theme. Sweet and delicate, singular yet distinct, they showed off the the kitchen's exactness. The bouillon, with dashes of grassy olive oil, was round and slightly fatty in the mouth. Secondary flavors of fennel and anise perked up at different points.
This was tremendous – light and subtle with a balance that hung with each bite. The herbs were subdued and lingered in the background, again, filling the space, expanding the range. Each spoonful had gravity despite its ethereal nature.
Looking like the garden floor, semi-dried beetroot, steamed apples, hazelnuts, and burnt honey followed next as immediate contrast – bolder, crunchier, substantive. Crispy at first, the beets hid a satisfying pate de fruit texture inside – a gumminess that quickly caught the teeth for an instant.7 Textures – gummy, soft, crunchy, and crisp. Every component had sweetness but the dish was balanced by the earthiness, the bitterness, and the nuttiness.
And then an orange yolk peeked out of a cloud.
There were immediate memories of another Syhabout egg dish that made my favorite bites of 2010. It was a masterpiece of textures with such a satisfying long, sweet finish.8 Flavor profiles, not ingredients. I suspect he also cooks and thinks in textures too.
Here, the richness of the yolk and the lushness of the potato puree delivered a single sensual note. Sweet and savory spices popped in and out with each bite. Somehow it maintained a lightness. Breadcrumbs underneath added textural contrast.
Surprise and mystery.
Veering slightly into the Commis of old, this grilled cod with artichokes, and sauce of Oregon truffles was a nice piece of fish. It was cooked beautifully. The skin was crisp, though our inner Yelpers felt it could have been crispier. The essence of the truffle sauce, for it was barely there, cast slight earthy notes with the dense fish. The vegetables broke up the (many) similar bites of protein. It seemed large. At this point, some people might prefer more substance but this felt slightly disconnected from the previous dishes.
Sitting at the counter, the recommended seat, one sees some action and plating. Cuts of saddle were frequently being chopped before being whisked away for their final presentation. It looked like the protein punch, coming on the heels of the fish. Would this cut maintain any of the delicacy of earlier dishes? Or had we veered into that second menu again, where the protein mains bear little relation to the earlier courses? It was presented as a calf's saddle roasted in salted butter and plated with young green garlic and grasses. Black trumpet mushrooms and dehydrated cauliflower also sat to each side.
What grows together goes together came to mind. Or perhaps a variation: Meat goes with what it eats.
The grasses and garlic, some raw, others dehydrated, immediately hooked into the grass notes of the calf.9 They danced around in a torrent of secondary flavors with the butter. It was a joy to eat – to chase these flavors around in the mouth. The crispness too was balanced just right for the tender meat. This was a sensational dish. It was a sensational end to the savory menu – a (rare) protein course with daring.
Could I have another please?
Sweet enough, desserts by Joshua Meisman carried over similar themes from the savory menu. Vegetables and herbs made appearances, similar textures recurred, and stabs of flavor were well placed. Cara cara pudding had acidic hints but was largely smooth and mellow, with just the right shock, of taste, texture, and temparture, of a sassafras ice. A refreshing recharge.10
Oro blanco jelly, with its sweetish mellow flavor, made a wonderful and unexpected pairing with cocoa nibs. The combination brought out the fruitiness, and acidity, of both components. And both paired smoothly with a sweetish parsnip mousse and parsley milk.
And that is Commis with eight courses.11
This meal was the one I was waiting for. It is what I imagined when I thought of a Commis tasting menu, in those years before one. The portions were cut down from previous visits, allowing the delicate flavors and textures to maintain their character over the entire meal. The ephemeral sauces keep one wanting from one dish to the next. And with more courses, the chain of want is strong. The effortless matching of ingredients distinguish Commis – creative but rarely strained – quiet but very confident.
With this menu, two stars in October.12
- chuck
1 – It seems like everyone claims their food "tells a story" these days but I think that is sometimes too literal. The dishes themselves, composed of ingredients, flavors, technique, textures, and temperatures, have a natural rhythm and patterns through an extended menu. They themselves tell a tale, before seasonal, cultural, and historical associations are layered on top of the narrative.
To date, there are a few instances where this was very clear to me. At Pierre Gagnaire, in what was arguable my best Western meal ever, the textures of liver and seafood over several courses built to a crescendo before softly fading over the last two dishes. At Urasawa, shrimp was repeated throughout the meal in different guises – raw, brains, roe, that, that. It was a character whose story was being told that day. And at Masa (Tokyo), where similarly fish were repeated, a pattern I could just touch upon but not discern, something fleeting and just out of my grasp.
2 – I'm sure you've seen the articles. I won't link to them because they were written to be linked to. Troll bait is the future of journalism (or has it always been?) If you don't like the practice of tasting menus, it is very easy to avoid such restaurants. Besides, in today's current commercialized environment, it won't be too long before you see your favorite tasting menu chef in the frozen food isle; so just wait a bit longer if you dislike tasting menus.
3 – I'm currently reading Great Chefs of France by Anthony Blake and Quentin Crewe. As they describe the history of dining in France, it seems as if every generation described their food as "lighter, more about the ingredients." La Varenne in the 1600s, Menon in the 1700s, Escoffier in the 1900s, and Gault and Millau in the 1960s. And I still find contemporary French food heavy! Marinated meat, espagnole thickened with flour, probably over-cooked by today's standards, everything served at once – I can't fathom how heavy it was in, say, 1720?!?
4 – When I write that a tasting menu was needed at Commis, I am strictly speaking from a diner lens. I obviously have no knowledge of the business side, what Syhabout thinks the market, an area he has called home most of his life, needs. In a brief conversation at dinner, he said it's a function of the small space and the market – ferreting out a common ground between neighborhood spot and ambitious restaurant.
5 – How did I end up here? Admittedly, there are a few places I need to re-visit within the Bay Area. When Tasty Bits gave me a few choices, Commis seemed to be the best pick; and I was sold when he said they only offered the eight-course tasting menu.
6 – With a Big Green Egg, I chanced upon a way to cook very small beets to this consistency while using the cool-down period for cooking. Put them into the Egg when it's cooling down. Assuming it's around 350-400 degrees, cap it off completely, and let the beets sit in there until the Egg has cooled down to 0. The beets will cook, slightly dehydrate themselves, and absorb the smoke within. Take them out, peel, and refrigerate for the next day. I always find their smokiness is more intense the next day – just like I like them. If you are slow-cooking a shoulder, throw them in at any time, and experiment with the textures of different time durations.
7 – An oft-repeated mantra is "it's all about the taste." I don't completely agree. Texture for me is just as important. I sometimes wonder if I remember texture more than flavor. It often defines a dish. Ice cream is arguably texture, not a taste. Pasta is more about shape, and thus texture. The best dishes are able to work across a few dimensions – where ingredients can fulfill at least taste and texture balance or contrast. When I see puffed rice, I am quick to judge: they are thinking about texture but is this the best textural component? I happen to love puffed rice so maybe the answer is yes!
8 – This could be my favorite egg dish of all-time; even better than the l'Arpege egg. Below is what I wrote about the egg dish in my Perfect Meal 2010 post:
The ubiquitous egg of 2010, mandated by PR firms as menu necessities, was omnipresent in restaurants. Uneven ingredient and conceptual quality rendered it tiresome. Not the case at Commis. This riff on the infamous l'Arpege egg was indeed world-class, belonging in conversations with its ultimate influence. Its yolk was half-cooked to an exceedingly satisfying texture throughout – particularly in context with the textural contrasts of the oats and onion puree at the bottom. Near the finish, the jam lent its sweetness, lasting for ten seconds or more, as the oats were chewed.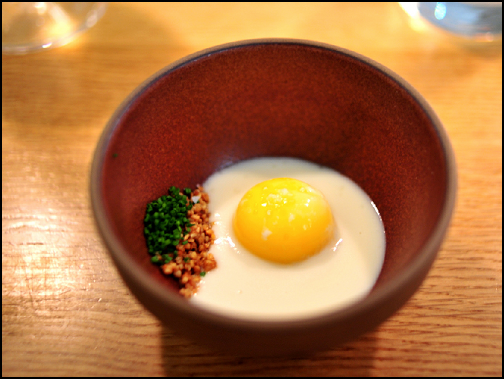 (photo by The Ulterior Epicure from a meal we shared together, used with permission.)
9 – What grows together, goes together could perhaps be modified to Serve it with what it eats. Good grass-fed beef can have strong grass notes. Grass, then, is a natural pairing that can pick up on those flavors and play with them. John Shields served a Beef Cheeks with hay-infused milk at Town House that was also remarkable.
Ryugin served foie gras with aichi figs since the figs were used to fatten the goose.
It seems like fun territory to continue exploring.
10 – Sassafras is a strong taste and it's possible some might find it too strong. But I love root beer, and I love root beer floats even more. My preferred float requires leaving the soda out for one day so it loses some of its carbonation. The foam that develops from a fizzy soda hitting ice cream must be minimized. A somewhat flat root beer mixes better with the ice cream, slightly softening its edges so they can be sliced off with a spoon. The effect is something like a glacier that is shedding ice; here, the slightly icy ice cream sits in a broth of root beer – perhaps my favorite dessert. And what is my favorite root beer? Sparky's, of course, with its intense hit of wintergreen!
11 – One more dessert, or amuse, would have been perfect. After my first meal, I left hungry, despite ordering an extra course. Here, I felt sated. A vegetable-forward amuse could have been interesting. An extra dessert would have been nice too – I feel tasting menus usually have one less dessert than needed. (My general opinion? Skip mignairdeses and do a proper course – mignardises look impressive but rarely satisfy.)
12 – This meal was two Michelin star quality. If they stick with this current eight course menu arrangement until October; I could see the Michelin Man going for two. And if you've read this blog long enough, you'll already know that I called both Saison and Atelier Crenn in the seasons before their respective two stars awards.